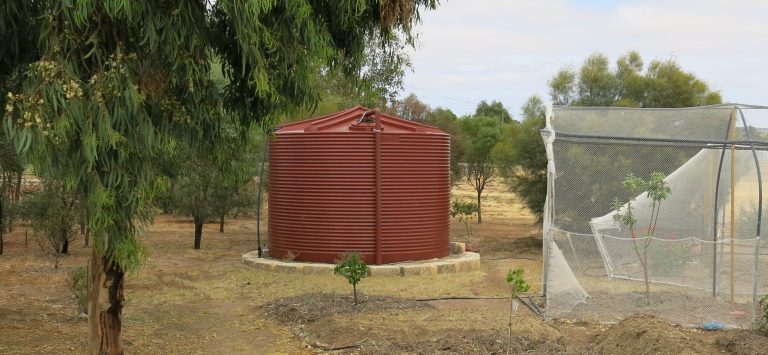 Why should I be considering a rain water tank?
Australia is one of the driest continents on earth. As rural and urban population growth expands, our demand on existing water resources will increase. It is everyone's responsibility to reduce our footprint on earth and reduce, reuse and recycle. This includes catching the rain in a rain water tank for personal and industrial use.
Why should I purchase a Coerco product?
First of all Coerco is Western Australia's leading polyethylene tank and product manufacturer and has been servicing WA for over 2 decades.
A huge product range covering nearly every aspect of industry

Traditional and modern designs

Tanks ranging from 250 to 50,000 litres

Strong and durable, will not rust, crack or corrode

UV stabilised to cope with Australia's harsh conditions

Full Manufacturer's no fuss warranty

12 COLORBOND® tank colours to chose from

Coerco is certified with SAI Global to AS/NZS ISO 9001 (Quality ManagementSystems – Requirements)
Available from all good hardware, garden or water specialist retailers
What do I need to consider before I buy a rain water tank?
Try to select the largest possible tank capacity for the area you have available. In rural locations, space is not always a problem and so a traditional round tank is the best solution. However, in residential areas space can be a real problem, particularly if you are limited to locating the tank down the side of a house or in a small back yard and in these situations a Slimline tank may be more practical.
How do I calculate my rain harvesting capacity?
1 mm of rain on 1 sq. meter of roof area will give you 1 litre of water in your tank.
What are Coerco rain water tanks made from?
Coerco rain water tanks are made using high quality UV stabilised food-grade polyethylene.
Is my roof surface suitable for collecting rain water?
The most suitable roofing materials for collecting potable water* are:
Colorbond® steel sheets or tiles

Zincalume® steel sheets or tiles

Glazed tiles well fired

Concrete/cement tiles

Clay tiles
(* potable water is water fit for human consumption – safe drinking water)

Do poly tanks split at the seams?
There are no seams in Coerco poly tanks. Parting lines may be visible on the outside where the lid meets the wall of the tank that look like joins. This is where the lid and base moulds join together. Coerco tanks are not made from two sides joined together, they are formed as one solid piece during the rotomoulding process and under NO circumstances are tank lids removed for transport.
Are insects a problem with rain water tanks?
To prevent insects, such as mosquitoes breeding and contamination, it's that vital guttering and pipe work should be self-draining and fitted with drainage points and screens.
What accessories come with Coerco rain water tanks?
Different tanks come with different fittings – generally, all tanks come with a moulded poly lid (with leaf strainer fitted as optional), a threaded brass outlet, ball valve, overflow elbows and screens – check with Coerco 1800 646 277 for confirmation on your specific tank.
How much are Coerco rain water tanks?
Coerco retail agents will be able to provide specific quotations on pricing and delivery costs. Click here to find your nearest Coerco Agent or call 1800 646 277
What type of base do I need for my tank?
You require a solid, level, compacted base, that extends beyond the diameter of the tank that will not be eroded by wind or rain. Suitable bases include brick, concrete, gravel or compacted sand surface between 75mm (3") and 100mm (4") in depth. More about Site Preparation & Installation.
Can I install my Coerco rain water tank in the ground?
No – unless you have purchased a specific Coerco underground tank, you should not locate/install any part of your Coerco tank underground.
How much does delivery cost for Coerco rain water tanks?
Tanks 9000 litres and above Coerco will deliver to the tank site free of charge within 800km of Perth metropolitan area. All other product is delivered free into store to your nearest Coerco retail agent. (conditions apply) For remote areas competitive freight rates are available, contact your local agent for a quotation.
Can I drink rain water from my Coerco tank?
Yes, although some people prefer to filter their tank water for drinking. Coerco tanks are made from food grade polyethylene and will not taint or colour the water. It is important to ensure that all roof areas and gutters are clean.
Do I need a plumber to install my Coerco tank?
If you are installing a water switch and pump to connect your Coerco tank to your home water outlets (i.e. to connect to laundry and toilet) you will need a licensed plumber for this installation.
What rebates are available for installing rainwater tanks?
For up to date information on rain water tank rebates available from local, state and federal governments in Western Australia please check the following website portal.water.wa.gov.au
How much rainfall is there in my area?
For up to date statistics on average rainfall in your area, log on to the Australian Bureau of Meteorology www.bom.gov.au
Should I clean my tank out?
Rain water is harvested from roofs, channelled down gutters and through down pipes. These surfaces can also catch dirt and dust that can be captured in your rainwater tank through the water collection process. Leaf strainers, gutter guards and other filtration systems (both in and out of the tank) all provide protection against dirt and dust entering your tank. It is beneficial to clean your Coerco tank every 2 to 3 years to remove sediment and ensure the highest quality water possible is being stored in your tank. NEVER ENTER A TANK ALONE, ALWAYS HAVE AN ATTENDANT STANDING BY