If you are a WA farmer in dryland an agriculture zone receiving less than 600mm average rainfall could be eligible to receive a generous farm water rebate for developing and improving your on-farm water supplies. This is thanks to the $4.4 million Watering WA rebates scheme which started in October 1st.


Firstly your farm must be in the WA dryland agriculture zone as seen below: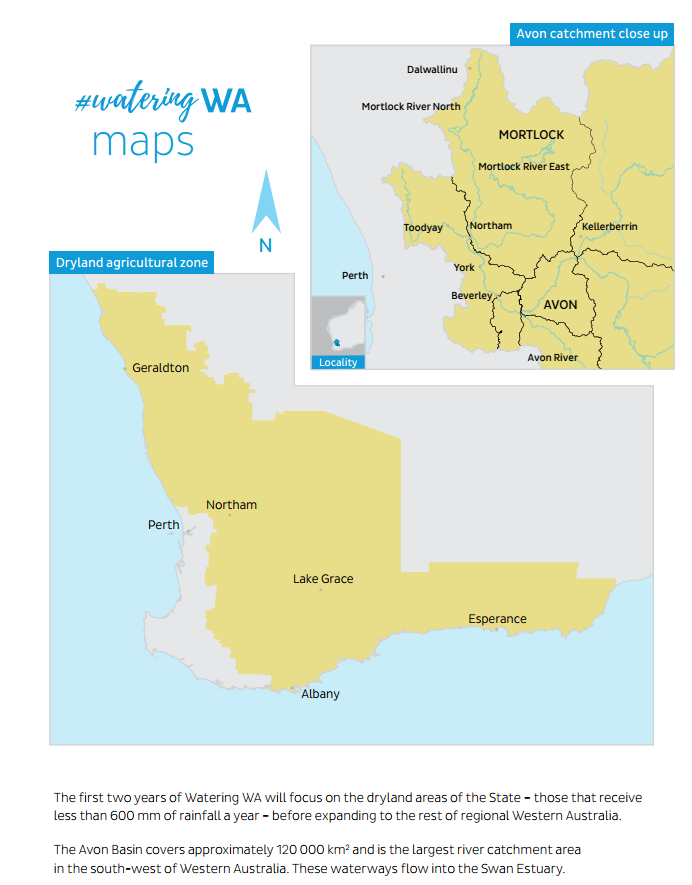 If you meet the eligibility criteria for the Farm Water Supply Planning Scheme (FWSPS) you are in line to get a rebate towards the cost of a farm water auditor visiting your farm to carry out an audit.
After the audit and once your on-farm water supply improvement works have been carried out you could also then claim on the Farm Water Rebate Scheme (FWRS)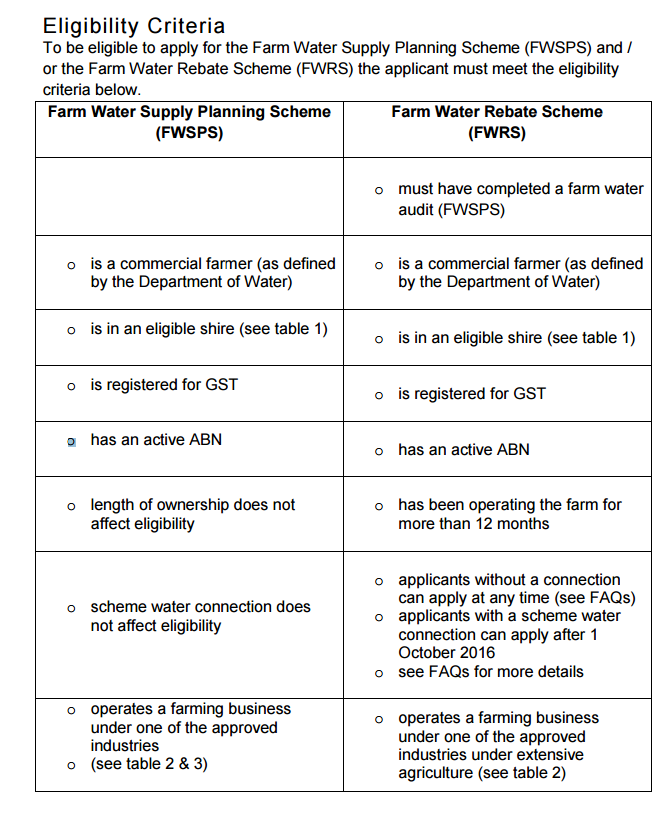 More information on whether you are eligible can be found here http://www.water.wa.gov.au/__data/assets/pdf_file/0016/1735/106127.pdf
A full list of approved auditors can be seen here: http://www.water.wa.gov.au/__data/assets/pdf_file/0020/8183/109920.pdf

The following are some rebates the farmer can get around tanks/troughs with recommended Coerco Product models.
Item

Maximum rebate

Maximum Claim per audit

Required specifications
Suggested Coerco Products

Tanks

$1700 (23-32kL)

$10 000

• Tanks must be new and connected to a water source (roof, bore, dam etc).




• Must have measures in place to restrict inflow of debris.




• Must be of appropriate capacity.




• Two smaller tanks connected together are recommended in place of one large enough for security of supply.

•

JRR25000

•

RT32000

$3000 (33-52kL)

•

RT45000 Combo Tank

•

JRR50000

$3200 (53-72kL)

•

RT64000

Combo Tank

$3800 (73-92kL)

•

RLT90000

•

Combinations of Smaller Tanks

$4000 (93-112kL)

•

Combinations of Smaller Tanks

$4500 (113-122kL)

•

RLT120000

•

Combinations of Smaller Tanks

$4800 (123-145kL)

•

Combinations of Smaller Tanks

$6500 (>146kL)

•

RLT150000

•

Combinations of Smaller Tanks

Troughs

$300 (<200L)

$3 000

Troughs must be new and fit for purpose.

•

All Poly Stock Troughs

•

Steel Frame Longline Troughs

: PT08W, PT21W, PT21/32H, PT21/32L, PT21/40H, PT21/40L, PT21/50H, PT21/50L, PT06W, PT06/32H, PT06/32L, PT06/40H, PT06/40L, PT06/50H, PT06/50L

•

M Series Water Troughs: PTM31W, PTM33W, PTM34W

$400 (>201L)

•

All Super Troughs

•

Steel Frame Longline Troughs: PT18W, PT18/32H, PT18/32L, PT18/40H, PT18/40L, PT18/50H, PT18/50L, PT16W, PT16/32H, PT16/32L, PT16/40H, PT16/40L, PT16/50H, PT16/50L

•

M Series Water Trough PTM31W

•

All Ultratub Troughs

•

All Round Troughs with Float Kits

Small tanks

$800 (5-10kL)

• Capacity of tank must be enough to supply the dependent stock for at least 5 days in the event of source failure.




• Tanks must be connected to a reliable water source with the appropriate diameter pipe.

•

RT9000

•

RT9500

$1200 (11-16kL)

•

JRR10500

•

RT13500

•

JRR14000

$1250 (17-22kL)

Cup & Saucer

$1,300

Capacity of tank must be enough to supply the dependant stock for at least 5 days in the event of source failure.

•

All Poly Cup and Saucer Tanks

Pumps

$2,000

3 pumps

Pump must be fit for purpose.

•

Pumps on Skids with Tanks for Transporting Water

For more information on the Farm Water Rebate Scheme – Rebate schedule please click here: https://www.water.wa.gov.au/__data/assets/pdf_file/0013/1651/107741.pdf
*Please note that the information given is here is for informational purposes only and that no guarantees are made concerning the accuracy, reliability and completeness of the information. For the latest information on the Farm Water Rebate Scheme please check here http://www.water.wa.gov.au/planning-for-the-future/rural-assistance/farm-water-rebate-scheme