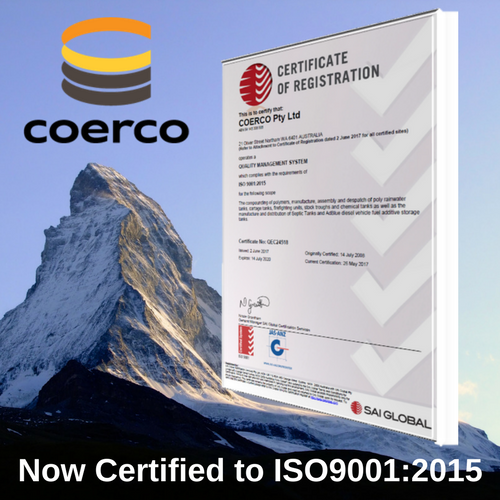 We are glad to announce that as of this month Coerco is now certified to the latest ISO9001 version (ISO9001:2015) which replaces the previous version (ISO9001:2008).

What is the ISO9001 standard?
ISO 9001 is an internationally recognised standard that sets out the requirements for a quality management system. Coerco has been certified to this standard since July 2008 and it helps businesses and organizations to be more efficient and improve customer satisfaction.
Why has the standard been revised?
ISO standards are reviewed every five years and revised if needed. This helps ensure they remain useful tools for the marketplace. The challenges faced by business and organizations today are very different from a few decades ago and ISO 9001 has been updated to take this new environment into account. ISO 9001 needs to reflect these changes to remain relevant.
What are the major differences?
The most noticeable change to the standard is its new structure. ISO 9001:2015 now follows the same overall structure as other ISO management system standards (known as the High-Level Structure), making it easier for anyone using multiple management systems. Another key difference is the focus on risk-based thinking. While this has always been part of the standard, the new version gives it increased importance.
What benefits does the new version bring?
The new version of the standard brings the user several benefits.
For example, ISO 9001:2015:
- Puts greater weight on leadership engagement
- Helps address organizational risks and opportunities in a planned manner
- Uses simplified language and a common structure and terms, which are particularly helpful to organizations using multiple management systems, such as those for the environment, health & safety, or business continuity
- Addresses supply chain management more effectively
- Is more user-friendly for service and knowledge-based organizations
So why are you telling me this?
This provides assurance and trust in the responsible Coerco team not only valuing the correct certification of it's management system, but also it's customers and their experience through any touch points with the Company. Overall this system means the interests of the valued consumer are taken even further taken into consideration and we hold ourselves accountable to them. Coerco prides itself on it's products made from the highest grade materials, and now continues to back them up with high grade systems behind the scenes.